Sermon Series "God With Us"
This series looks at the Christmas story to see how God is with us through all parts of our lives.
In Our Awe
December 3, 2018
Video
Sermon Notes:
See that God is with us
God was with Mary in her awe.
The fear of meeting God up close.
Embracing the awe of the Lord
Scripture References
"The angel went to her and said, "Greetings, you who are highly favored! The Lord is with you."Mary was greatly troubled at his words and wondered what kind of greeting this might be. But the angel said to her, "Do not be afraid, Mary; you have found favor with God." ~Luke1:28-30
"When the people saw the thunder and lightning and heard the trumpet and saw the mountain in smoke, they trembled with fear. They stayed at a distance and said to Moses, 'Speak to us yourself and we will listen. But do not have God speakto us or we will die.'" ~Exodus 20:18-19
"There he was transfigured before them. His face shone like the sun, and his clothes became as white as the light. Just then there appeared before them Moses and Elijah, talking with Jesus.Peter said to Jesus, 'Lord, it is good for us to be here. If you wish, I will put up three shelters—one for you, one for Moses and one for Elijah.'" ~ Matthew 17:2-4
In Our Valley
December 9, 2018
Video
Sermon Notes:
Walking through the Valley
We all spend time in the valley.
Life in the valley can be lonely.
God is eager to guide your path.
Scripture References
"This is how the birth of Jesus the Messiah came about: His mother Mary was pledged to be married to Joseph, but before they came together, she was found to be pregnant through the Holy Spirit. Because Joseph her husband was faithful to the law, and yet did not want to expose her to public disgrace, he had in mind to divorce her quietly." ~Matthew1:18-19
"Even though I walkthrough the darkest valley,I will fear no evil,for you are with me;your rod and your staff,they comfort me.'" ~Psalm 23:4
"But after he had considered this, an angel of the Lord appeared to him in a dream and said, 'Joseph son of David, do not be afraid to take Mary home as your wife, because what is conceived in her is from the Holy Spirit." ~Matthew1:20
"'For I know the plans I have for you,' declares the Lord, "plans to prosper you and not to harm you, plans to give you hope and a future. Then you will call on me and come and pray to me, and I will listen to you." ~ Jeremiah 29:11-12
In Our Joy
December 16, 2018
Video
Sermon Notes:
Who do we give the Glory?
Joy is more than an emotion.
Great joy comes from Good News.
Good New drives us to share the joy.
Scripture References
"As the Father has loved me, so have I loved you. Now remain in my love. If you keep my commands, you will remain in my love, just as I have kept my Father's commands and remain in his love. I have told you this so that my joy may be in you and that your joy may be complete." ~John 15:9-11
"And there were shepherds living out in the fields nearby, keeping watch over their flocks at night. An angel of the Lord appeared to them, and the glory of the Lord shone around them, and they were terrified. But the angel said to them, 'Do not be afraid. I bring you good news that will cause great joy for all the people.'" ~Luke 2:8-10
"When the angels had left them and gone into heaven, the shepherds said to one another, 'Let's go to Bethlehem and see this thing that has happened, which the Lord has told us about.'" ~Luke 2:8-15
"The shepherds returned, glorifying and praising God for all the things they had heard and seen, which were just as they had been told." ~Luke 2:20
In Our Worship
December 23, 2018
Video
Sermon Notes:
Is it too Easy to worship?
Here are free to worship or not.
Worshippers not just spectators.
Worship is Spiritual respiration.
Scripture References
"When they saw the star, they were overjoyed. On coming to the house, they saw the child with his mother Mary, and they bowed down and worshiped him. Then they opened their treasures and presented him with gifts of gold, frankincense and myrrh." ~Matthew2:10-11
"Yet a time is coming and has now come when the true worshipers will worship the Father in the Spirit and in truth, for they are the kind of worshipers the Father seeks. God is spirit, and his worshipers must worship in the Spirit and in truth." ~John 4:19-24
"God is continually breathing, as it were, upon the soul; and [our] soul is breathing unto God. Grace is descending into [our] hearts; and prayer and praise ascending to heaven: And by this intercourse between God and man, this fellowship with the Father and the Son, as by a kind of spiritual respiration, the life of God in the soul is sustained; and the child of God grows up, till he comes to the 'full measure of the stature of Christ.'" ~John Wesley, The New Birth
Getting Resdy for the Future
December 30, 2018
Video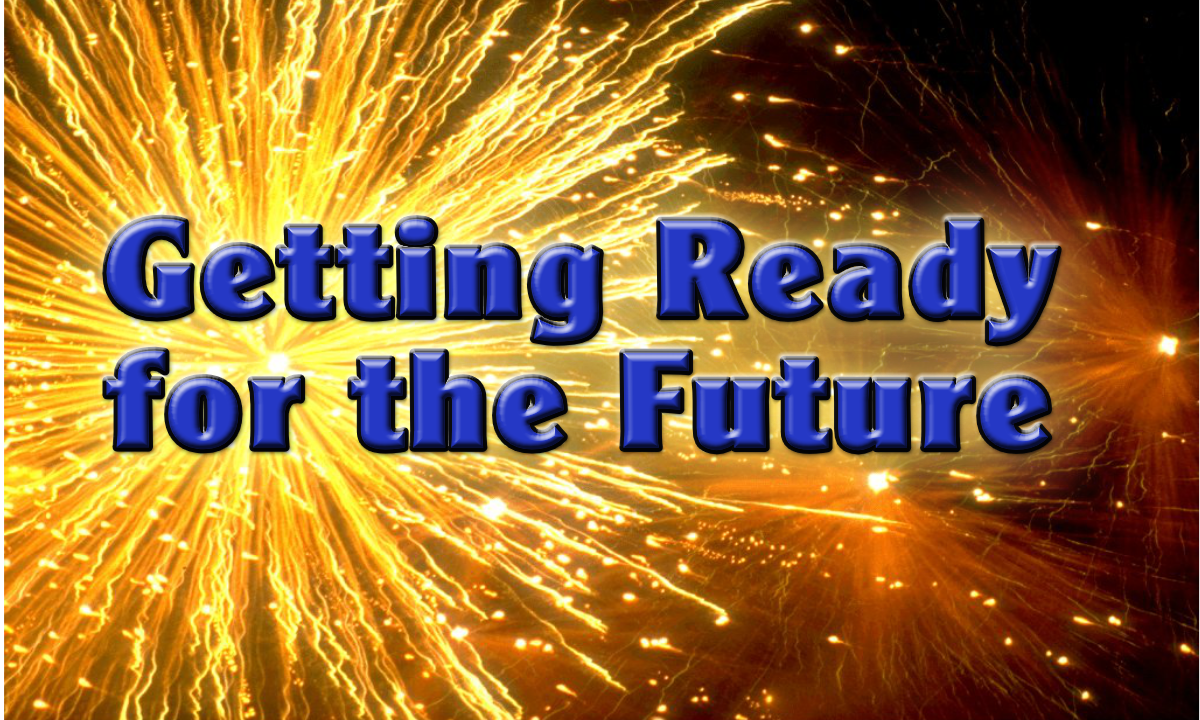 Sermon Notes:
INTRO. The month of January is named for the Roman god Janus; who was the god of doorways and beginnings.
This message deals with the issue of moving from one year to the next.
A LOOK AT THE PAST YEAR.
Christmas letters and newspaper yearend summaries  deal with experiences of the past year.
Whether they were good or bad depends in part of our interpretation of them.  They are important, not just for nostalgic purposes but for their affect in the coming year. While we can interpret our past experiences, ultimately God, not we are the ultimte judge of how things went.  So the ultimate question for us as a Christian is not whether things were good or bad for us in our life; but as a result
HOW IS IT WITH YOUR SOUL?
Someone has suggested that in the final judgment God will ask us two simple questions: WHAT DID YOU LEARN? and
HOW DID YOU LOVE?   I will use these two concerns both as we look at the past year and then forward to the coming year.
WHAT DID YOU LEARN SPIRITUALLY?
Some had a new experience of God's grace through Emmaus or Cursillo.
(A modern version of an old-time Revival Meeting.)
What new spiritual truth did you learn last year.
- These largely come through Bible Study, prayer, worship, Christian fellowship.
- All require OBEDIENCE TO GOD in what we learn.  "We must be doers as well as hearers of the Word".
What was the Lord working on in your life specifically?
Our use or lack of the use of the means of grace listed will be a strong indicator of what has happened in our life spiritually.
HOW HAVE YOU LOVED this past year?
How is love for God being evidenced in my life?  (This relates to learning or desire to.)
Who and how have I evidenced my love for other people this past year?
Have I reconciled with someone I needed to?  Have I forgiven someone?
Have I rendered random acts of kindness?
Who have I sought to bring to Christ or helped in their walk of faith?
Am I closer to Christ today than I was when the year started?   Or how about after 5 or 10 years?
THIS COMING YEAR.  2019
What do I need to do to move forward as a Christian during 2019?
(Its something like riding a bike; we must move forward or we will fall off.)
We cannot stay the same for long; either we move forward or we go backward.  John Wesley called it backsliding!
WHAT ARE MY PLANS TO LEARN THIS YEAR SPIRITUALLY?
We can learn from the past, which involves facing mistakes & sins.
Which brings a need for repentance & confession. Asking for God's grace to help us not repeat them.
Use the means of grace available.
Regular prayer; involving part of a group.
Bible study, both private and part of a class or group.  Regular worship.  Part of the Christian fellowship.
Obedience, accountability to what God shows us.
This can help us grow in our love for God which then anables us to better love others.
LOVING IN 2019.
1.Who do I need to reconcile with?  Can I?
Who is the Lord laying on my heart to care for, encourage, challenge, spiritually and otherwise?
How am I to share this love?
CONCLUSION
Spiritual growth doesn't just happen. It involves making choices.  It takes making a DECISION!
i ENCOURAGE YOU TO DO THIS BEGINNING RIGHT NOW!   THIS IS THE HOUR OF DECISION!