Want someone to pray for you or someone you care about?
If you need help, comfort, or someone to pray for you, our Prayer Team stands ready and able to do that for you.
Click here to submit a request, and know that we will raise your concerns to the Living God who absolutely hears us. We know, because Jesus Christ guaranteed it.
Messages from Pastor Phil
Watch Recent Worship Service and Sermon Videos
Lake City United Methodist Church
213 N Oak St,
Lake City , MN 55041
Church Office Hours
9:30 am - 1:30 pm Tuesday-Friday
Secretary available during these hours.
Phone messages may be left anytime, but will only be picked up during the above hours.
Use our new Online Giving Service--it is safe and convenient.
Click Here for more information about Online Giving.
I'm Ready to Give!
Click the DONATE button to begin.
The Monthly Mission Focus
September Special Mission Project
Clean Water Ministry

"Clean Water Ministry" is a major part of our church's mission outreach.  We purchase water filters and ship them where there is a lack of clean water, primarily to Liberia, West Africa.  Approximately 1200 filters have been sent over the past 3 years, which have provided clean water for tens of thousands of individuals and saved countless lives, especially children, from water borne illnesses.  We have also provided a monthly stipend and a motorcycle for individuals that distribute the filters.  Recently the project has expanded to digging a well at Jarpuken Mission (where the Pyykkonens served as missionaries 40+ years ago).  The generous support of our congregation and many others has made all of this possible.
As we enter a new year, Clean Water Ministry will continue to be a big part of our Missions Focus.  The Missions Team asks you to prayerfully consider you continued support of this Ministry.  Some of the upcoming needs and opportunities include:
Cost of shipping the "barrel" that will contain children's clothes and dolls made by ladies in our church, donated tools, and up to 200 filters. Approximately $500.
Purchase of additional filters as shipping opportunities raises the cost of purchase, shipping and distribution in Liberia is approximately $35/filter.
Ongoing support and expenses for Abraham Billity who distributes the filters and at the same time presents the Gospel in the villages he visits. $165/month. The
Digging of additional wells. Approximately $4,000 per well.
Recently the Missions Team had the opportunity to name a new church, which was the result of Clean Water Ministry opening doors and hearts in a village.  The name:  Church of Living Water. Your continued prayerful support is appreciated.
PS.  Please designate any donations for "Clean Water".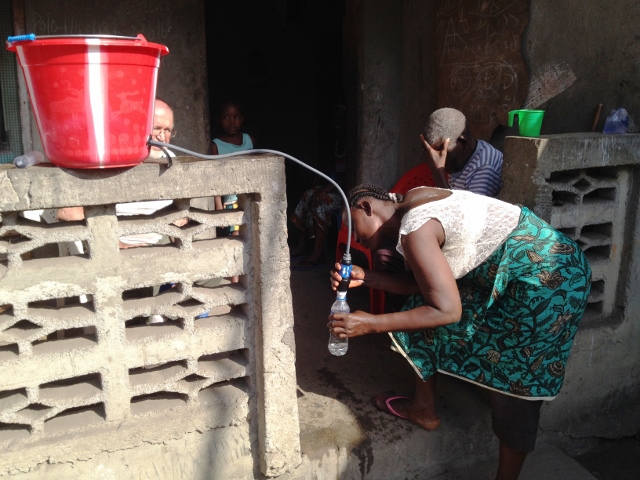 Water filter in use