All Restrictions have been lifted.
Praise the Lord!
Come Worship with Us!
Want someone to pray for you or someone you care about?
If you need help, comfort, or someone to pray for you, our Prayer Team stands ready and able to do that for you.
Click here to submit a request, and know that we will raise your concerns to the Living God who absolutely hears us. We know, because Jesus Christ guaranteed it.
Messages from Pastor Phil
Chasing Carrots
In this new message series, we will be addressing a common issue in our culture today, chasing after things that don't really matter.  Picture in your mind a hamster on wheel, try to get to the carrot that is just out of reach.  That is why this series is subtitled "The Endless Pursuit of More".  We are is a time and place that has more than any other culture on the face of the Earth.  But people today feel more empty than at any other time. Why?  Because more will never make you feel complete.  You can have more fame, money, perfection, approval, and comfort and it will not leave you satisfied.  The one that will fill you, when you have more, is Jesus!
Watch Recent Worship Service and Sermon Videos
Lake City United Methodist Church
213 N Oak St,
Lake City , MN 55041
Church Office Hours
9:30 am - 1:30 pm Tuesday-Friday
Secretary available during these hours.
Phone messages may be left anytime, but will only be picked up during the above hours.
Use our new Online Giving Service--it is safe and convenient.
Click Here for more information about Online Giving.
I'm Ready to Give!
Click the DONATE button to begin.
The Monthly Mission Focus
April 2021 Missions Focus - Feed My Starving Children
Feed My Starving Children
Our Mission Project for April is Feed My Starving Children. This year we need your help in many ways. Lake City and the surrounding area is raising money and gathering volunteers to support the FMSC mobile packing station that is coming to Plainview August 19 - 21 Postponed new date is pending--check FMSC here. Last year the Hiawatha Valley Mobile pack was cancelled due to the Covid 19 outbreak. Mark your calendar and be a part of this fun filled event. It is our hope that our entire church can help in some way.
The first need is prayer. Then you can help fund FMSC with your donation. Mark your check - FMSC on the note line. Please consider becoming a volunteer.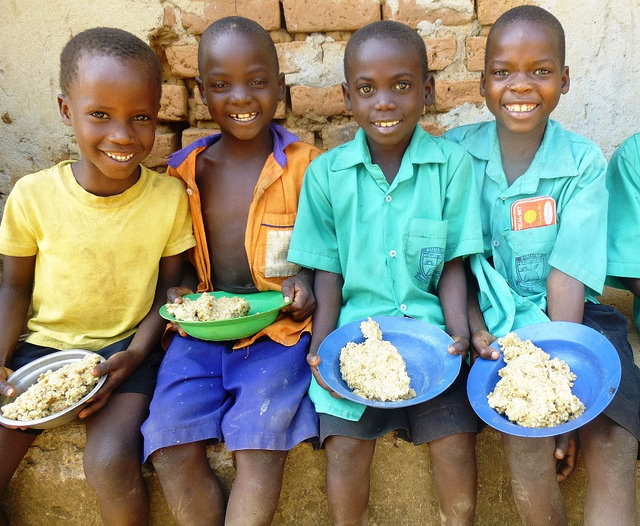 Children receive food from FMSC project