Messages from Pastor Phil
Selfless
So many of our New Year's resolutions are about making ourselves better, but greater fulfillment comes from being Selfless.
Lake City United Methodist Church
213 N Oak St,
Lake City , MN 55041
Telphone: 651-345-3625
Phone messages may be left anytime, but are not picked up on a regular schedule.

DONATE ONLINE NOW!
Use our new Online Giving Service--it is safe and convenient.
Click Here for more information about Online Giving.
I'm Ready to Give!
Click the DONATE button to begin.
Ian Peters: Evangelist, Pastor, author, and singer-songwriter visit
The Monthly Mission Focus
Our Mission Focus for January is our Clean Water Ministry-Liberia
January 2019
The mission focus for this month is the Clean Water Ministry, that the church has been involved for about 3 years.  As we have "provide a cup of water in Jesus name" many have been impacted for His Kingdom.  An example is Abraham Bility who works in Sinoe County, Liberia delivering filters to remote villages and teaching their use.  He was a former Muslim Imam who accepted Jesus as his Savior.  He is on fire for the Lord and takes every opportunity to present the Gospel to the villages he visits.   Jarpuken Mission is one of the places where he delivered several filters, even though he is not a member of the tribe in this area, the people have embraced Abraham and his ministry and now call him "citizen".
Jarpuken Mission (this is where the Pyykkonens served 45 years ago as young missionaries) is in the middle of a tropical rain forest, with no electricity, no sanitation and a polluted river as the primary source of water.  When Darlene Pyykkonen visited Jarpuken in December she was able to open a spigot and drink clean water, because of the filters we've sent to Liberia.
Over the last 3 years, we have sent about 1100 filters to several countries and improved the lives of thousands of individuals, especially children.  Hearts have been opened to the Gospel of Jesus Christ.  With the mission focus for this month being on the Clean Water Ministry, we have the opportunity to continue and grow this Ministry.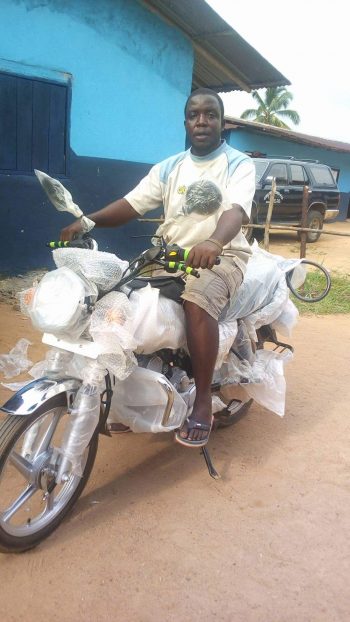 Abraham Bility--Delivers filters and the Gospel