Messages from Pastor Phil
A Contagious Life
We as Christians know the wonderful Good News of the Love of Jesus!  Through the Love of Jesus Christ, our sins are forgiven and we have been given eternal life!  As Christians we live this Good News, but we were never meant to keep it to ourselves; we were meant share this Good News with the world!  One person can't do it all, but it starts with one person.  When every Christian shares the Good News, the Gospel becomes contagious.  Only then can the whole world come to Jesus.  It all starts when you live A Contagious Life.
Church

 Office Hours
10 am - 2 pm Tuesday-Friday

Secretary available during these hours.

Phone messages may be left anytime, but will only be picked
Coming Events
Adult Education Classes
Sunday Mornings
"Remembering The Reformation"
We celebrate the 500th anniversary of the Protestant Reformation by looking at what happened then and what it means to us now.
A Critical Look at the Movie "The Shack"
Wednesday Evenings
"A Christian Worldview"
"Because of Bethlehem"
For more information on a class Click Here.
Support the Reach Renew Rejoice Vision
It's that time of year again and your mission committee has chosen to team up with Hats &Mittens -Fund the Warmth program to collect 90 sets of warm hats and mittens for children and young adults who need warm winter gear this winter.
We have built a special tree for you to put your donated hats & mittens. Our goal is to collect more than we did last year.  The first 10 sets will go to Lake City Public Schools. We collected about 85sets last year and those hats and mittens went to New Creation Baptist Church's food and clothing shelf in South Minneapolis and to Nellie Stone Johnson a North Minneapolis public school.
Hats & Mittens, an all-volunteer 501c3 organization was founded in 1996 by Rebecca Jorgenson Sundquist.  Its goal is to ensure that the children of our community have access to hats & mittens during Minnesota's cold winters.  Over 600,000 hats & mittens have been collected and distributed over the last twenty-one years.  Hats & Mittens partners with The Greater Twin Cities United Way.With your contributions, the Hat & Mitten Project will work with their partner WEAR A KNIT to ensure that we can meet the need for hats and mittens in Minnesota communities.  Additionally, The Hats & Mittens 22nd Annual Winter Ball  is Friday  December 30, 2017 at Interlachen Country Club 6200 Interlachen Blvd  Edina MN 55436
For more info call 952-221-3400 or go to  www.hatsandmittens.org
Every year, HATS & MITTENS has had an unprecedented number of requests for warm hats and mittens from community groups serving children. Through their, FUND THE WARMTH program, you have an opportunity to make a 100% tax deductible donation to our mission of ensuring that all Minnesota children in need have a warm hat and mittens during our cold winters. Hats & Mittens has set a goal of collecting 50,000 warm hats and mittens for 2017.
We need all sizes of hats & mittens to keep kids ages 3 years to eighteen warm.  We especially need waterproof mittens.  Gently used hats & mittens are welcome. All the hats and mittens will be delivered to Hats & Mittens the first week of December.
You can help with this mission with your prayers, your participation by bring hats & mittens to fill the tree or by your offerings. Thank you in advance for your part in providing for warmth for children who need our help.
Your Missions Team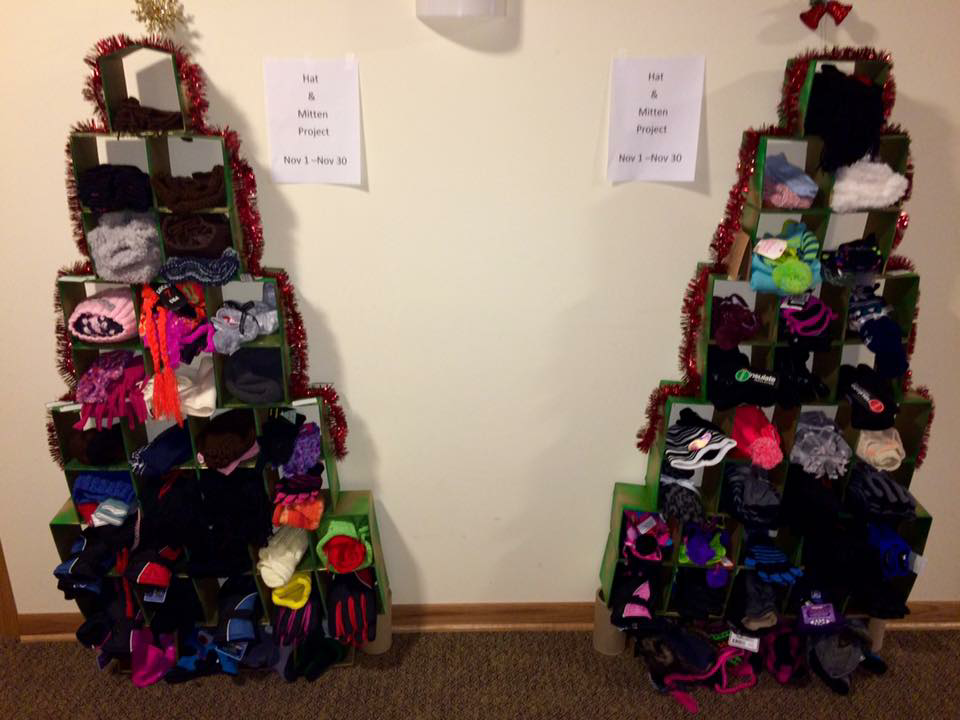 Last Year's Hats & Mittens Trees in our Narthex