All Restrictions have been lifted.
Praise the Lord!
Come Worship with Us!
Want someone to pray for you or someone you care about?
If you need help, comfort, or someone to pray for you, our Prayer Team stands ready and able to do that for you.
Click here to submit a request, and know that we will raise your concerns to the Living God who absolutely hears us. We know, because Jesus Christ guaranteed it.
Messages from Pastor Phil
God Breathed

As we start a new year we are looking deeply in the Bible!  The Bible can seem complication and a bit overwhelming at first.  In this series called God Breathed we will see how the Bible is not one book, but 66 books; it doesn't read like a novel, but like a library; even though it was written over 1,500 years it tells one continuous story; this whole beautiful book is inspired by the whole Spirit – God Breathed!
Watch Recent Worship Service and Sermon Videos
Redeeming Grace Community Church
213 N Oak St,
Lake City , MN 55041
Church Office Hours
10 am - 2 pm Tuesday-Thursday
Secretary available during these hours.
Phone messages may be left anytime, but will only be picked up during the above hours.
For Worship times & Location, Click Here
Use our new Online Giving Service--it is safe and convenient.
Click Here for more information about Online Giving.
I'm Ready to Give!
Click the DONATE button to begin.
The Monthly Mission Focus
January Missions Focus - A Floor for "Church of the Living Water" (Liberia)
Floor for Living Water Church
The establishment of the Church of Living Water, at Grigsby Farm in Liberia, was the result of the Clean Water Ministry which has been supported generously by our church.  About 75 – 100 are attending the church.  Abraham rides his motorbike about 45 minutes every week to conduct services and Sunday School.
The church building, which our church has mainly funded, is nearing completion.  The attached picture shows the church with walls and roof completed.  This has taken about 7 months.  That is lightning speed for construction in Liberia!!!  The next phase is the cement floor, roughly a $2,500 project.  Bags of cement will be hauled about 350 miles and then mixed and spread by hand.
January Mission Focus will be to raise funds for the floor.  Thank you for your continued support!!!
 Christmas Gifts for Jarpuken Mission Children...

Pictured at right is how the most recent barrel of Christmas gifts from our church was delivered to Jarpuken Mission.  That is the second barrel to reach the Mission and there are two more to go.  Pastor Chea sends special thanks from the children at Jarpuken.  Thank you for "enthusiastic" support of the children there.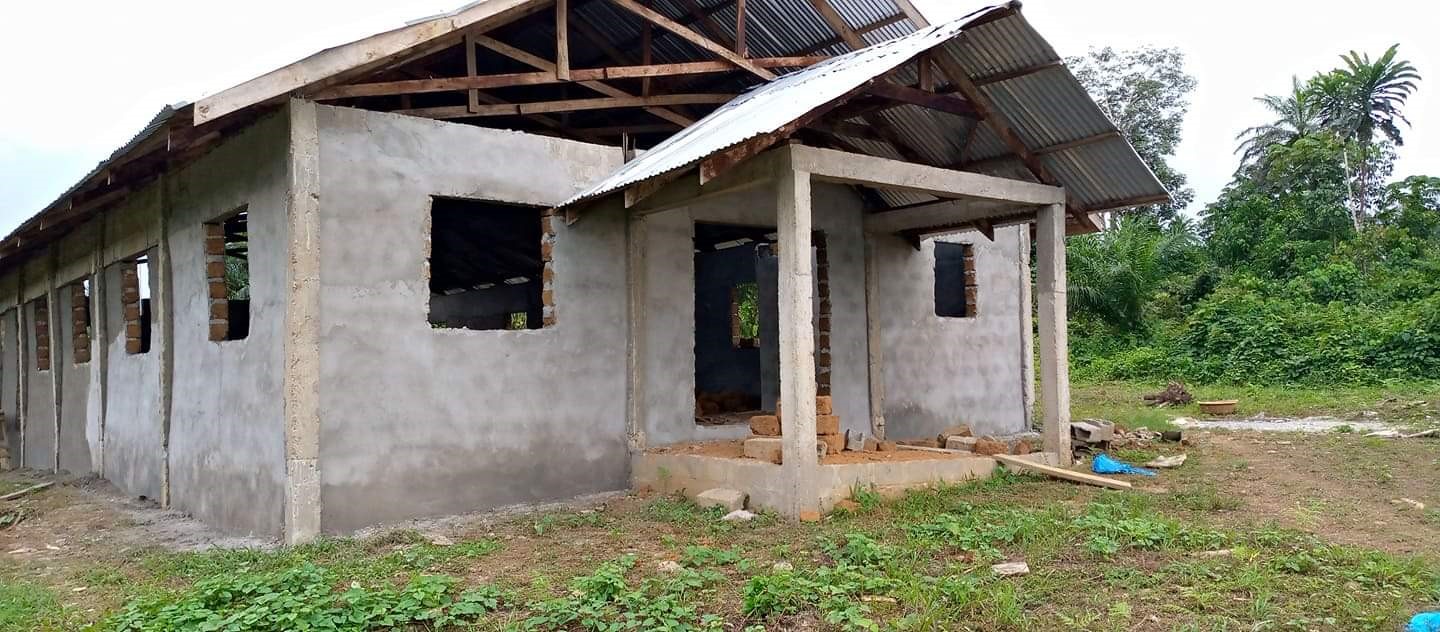 Church of the Living Water ready for a floor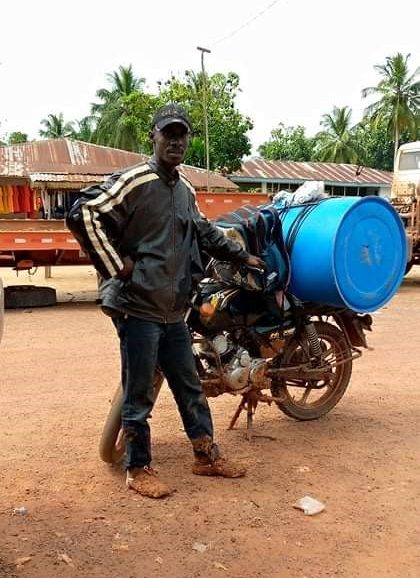 Barrels of Christmas gifts delivered to Jarpuken Mission in Liberia