The Sermon Series "Amazing Love-Amazing Grace"
Ths series examines God's amazing and unconditional love manifested in His Amazing Grace for us.
Peter's Fear
March 5, 2017
Video
Sermon Notes :
The Christian season of Lent is a time of self-examination and penitence as we prepare for the Easter celebration of our Savior's resurrection.  Our self-examination begins with our coming to grips with how fear creates a constant barrier to living on a rich and full relationship with God.  The disciple Peter provides us with examples of how fear hinders our faith and how overcoming fear (by the power of the Holy Spirit) allows us to fully celebrate and glorify Christ Jesus on our lives.
Scripture References:
15 Simon Peter was following Jesus, and so was another disciple. Now that disciple was known to the high priest, and entered with Jesus into the court of the high priest, 16 but Peter was standing at the door outside. So the other disciple, who was known to the high priest, went out and spoke to the doorkeeper, and brought Peter in. 17 Then the slave-girl who kept the door *said to Peter, "You are not also one of this man's disciples, are you?" He *said, "I am not." 18 Now the slaves and the officers were standing there, having made a charcoal fire, for it was cold and they were warming themselves; and Peter was also with them, standing and warming himself. ~John 18: 15-18
25 Now Simon Peter was standing and warming himself. So they said to him, "You are not also one of His disciples, are you?" He denied it, and said, "I am not." 26 One of the slaves of the high priest, being a relative of the one whose ear Peter cut off, *said, "Did I not see you in the garden with Him?" 27 Peter then denied it again, and immediately a rooster crowed. ~John 18: 25-27
Thomas' Doubt
March 12, 2017
Video
Sermon Notes :
Thomas has been given a bad wrap for doubting the resurrection of Jesus from the dead at first. As if doubt is always bad!  Actually doubt can be a good thing if done for the right reasons. 
1) Why did Thomas at first doubt the resurrection of Jesus?  Mainly because he wasn't with the other disciples when Jesus appeared to them.  Jesus more often appeared(s)  to a group of disciples (the fellowship) than to single individuals. 
2) Do we really want to believe?   Many like the religious leaders of Jesus day did not and so Jesus did not appear to them.  This is still true.
Only those who really want to believe in him will see or experience him.  Thomas may have doubted at first but its evident that he really wanted to see the risen Lord; for when he had an opportunity a week later when Jesus appeared to the fellowship again he readily believed.
Honest doubt; rather than destroying our faith can strengthen it. It shows we are doing some serious thinking about Jesus and life.
3) Finally Thomas wanted to see the risen Lord for himself; it wasn't enough for him to simply believe what someone else told him.  He wanted a firsthand experience of Jesus. 
And why was it so important for Thomas to meet Jesus for himself.   The chorus of a hymn written by the Gathers spells it out well.
  "Because He lives, I can face tomorrow; because He lives all fear is gone; because I know He holds the future; and life is worth the living just because He lives."  
What was true for Thomas is equally true for us. Honest questions and doubt plus an unwillingness to simply accept what others say can aid us in having a faith that enables us to truly face the future.   
Scripture References:
24 But Thomas, one of the twelve, called Didymus, was not with them when Jesus came. 25 So the other disciples were saying to him, "We have seen the Lord!" But he said to them, "Unless I see in His hands the imprint of the nails, and put my finger into the place of the nails, and put my hand into His side, I will not believe."
26 After eight days His disciples were again inside, and Thomas with them. Jesus *came, the doors having been shut, and stood in their midst and said, "Peace be with you." 27 Then He *said to Thomas, "Reach here with your finger, and see My hands; and reach here your hand and put it into My side; and do not be unbelieving, but believing." 28 Thomas answered and said to Him, "My Lord and my God!" 29 Jesus *said to him, "Because you have seen Me, have you believed? Blessed are they who did not see, and yet believed." ~John 20: 24-29
Saul's Past
March 19, 2017
Video
Sermon Notes :
Everyone has a Past
Before Paul he was Saul the Pharisee.
A personal encounter with Jesus.
Through Jesus we can be a new person.
Scripture References:
"My brothers, I am a Pharisee, the son of a Pharisee." ~Acts 23:6
"But Stephen, full of the Holy Spirit, looked up to heaven and saw the glory of God, and Jesus standing at the right hand of God… They all rushed at him, dragged him out of the city and began to stone him. Meanwhile, the witnesses laid their clothes at the feet of a young man named Saul." ~Acts 7:55-58
"Now as he was going along and approaching Damascus, suddenly a light from heaven flashed around him. He fell to the ground and heard a voice saying to him, 'Saul, Saul, why do you persecute me?'" ~Acts 9:3-4
"For it is by grace you have been saved, through faith—and this is not from yourselves, it is the gift of God— not by works, so that no one can boast." ~Ephesians 2:8-9
"Jesus replied, 'Very truly I tell you, no one can see the kingdom of God unless they are born again.'" ~John 3:3
The Woman's Future
March 26, 2017
Video
Sermon Notes :
Grace Above the Law
The woman was guilty under the Law.
Jesus looked past her guilt and offered grace.
The grace of Jesus is free, but it is not cheap.
Scripture References:
"The teachers of the law and the Pharisees brought in a woman caught in adultery. They made her stand before the group and said to Jesus, "Teacher, this woman was caught in the act of adultery.  In the Law Moses commanded us to stone such women. Now what do you say?"  They were using this question as a trap, in order to have a basis for accusing him." ~John 8:3-6
"Jesus straightened up and asked her, 'Woman, where are they? Has no one condemned you?' 'No one, sir,' she said. Then neither do I condemn you,' Jesus declared. 'Go now and leave your life of sin.'" ~John 8:10-11
"If we deliberately keep on sinning after we have received the knowledge of the truth, no sacrifice for sins is left, but only a fearful expectation of judgment and of raging fire that will consume the enemies of God." ~Hebrews 10:26-27
"What shall we say, then? Shall we go on sinning so that grace may increase?  By no means! We are those who have died to sin; how can we live in it any longer?" ~Romans 6:1-2
Bartimaeus' Healing
April 2, 2017
Video
Sermon Notes :
Healing is Amazing Grace
He receive healing and compassion.
Jesus is the only one who heals.
Our healing needs are all different.
Scripture References:
"Jesus stopped and said, 'Call him.' So they called to the blind man, 'Cheer up! On your feet! He's calling you.'  Throwing his cloak aside, he jumped to his feet and came to Jesus. 'What do you want me to do for you?' Jesus asked him. The blind man said, 'Rabbi, I want to see.'" ~ Mark 10:49-51
"'He himself bore our sins' in his body on the cross, so that we might die to sins and live for righteousness; 'by his wounds you have been healed.'" ~1 Peter 2:-24
"'For my thoughts are not your thoughts, neither are your ways my ways,'
declares the Lord.  'As the heavens are higher than the earth, so are my ways higher than your ways and my thoughts than your thoughts.'" ~Isaiah 55:8-9
"Is anyone among you sick? Let them call the elders of the church to pray over them and anoint them with oil in the name of the Lord.  And the prayer offered in faith will make the sick person well; the Lord will raise them up. If they have sinned, they will be forgiven. Therefore confess your sins to each other and pray for each other so that you may be healed. The prayer of a righteous person is powerful and effective." ~James 5:14-16
Grace for All
April 9, 2017
Video
Sermon Notes :
Grace is Given to the Masses
The crowds of people cheered Jesus as king.
The crowd call out for Jesus to be crucified.
Even at the end, Jesus showed them grace.
Scripture References:
"When he came near the place where the road goes down the Mount of Olives, the whole crowd of disciples began joyfully to praise God in loud voices for all the miracles they had seen:  'Blessed is the king who comes in the name of the Lord!' 'Peace in heaven and glory in the highest!'  Some of the Pharisees in the crowd said to Jesus, 'Teacher, rebuke your disciples!'  'I tell you,' he replied, 'if they keep quiet, the stones will cry out.'" ~Luke 19:37-40
 "But the whole crowd shouted, 'Away with this man! Release Barabbas to us!'  (Barabbas had been thrown into prison for an insurrection in the city, and for murder.)  Wanting to release Jesus, Pilate appealed to them again.  But they kept shouting, 'Crucify him! Crucify him!'" ~Luke 23:18-21
"Jesus said, 'Father, forgive them, for they do not know what they are doing.' And they divided up his clothes by casting lots. The people stood watching, and the rulers even sneered at him. They said, 'He saved others; let him save himself if he is God's Messiah, the Chosen One.'" ~Luke 23:34-35
Easter- New Life
April 16, 2017
Video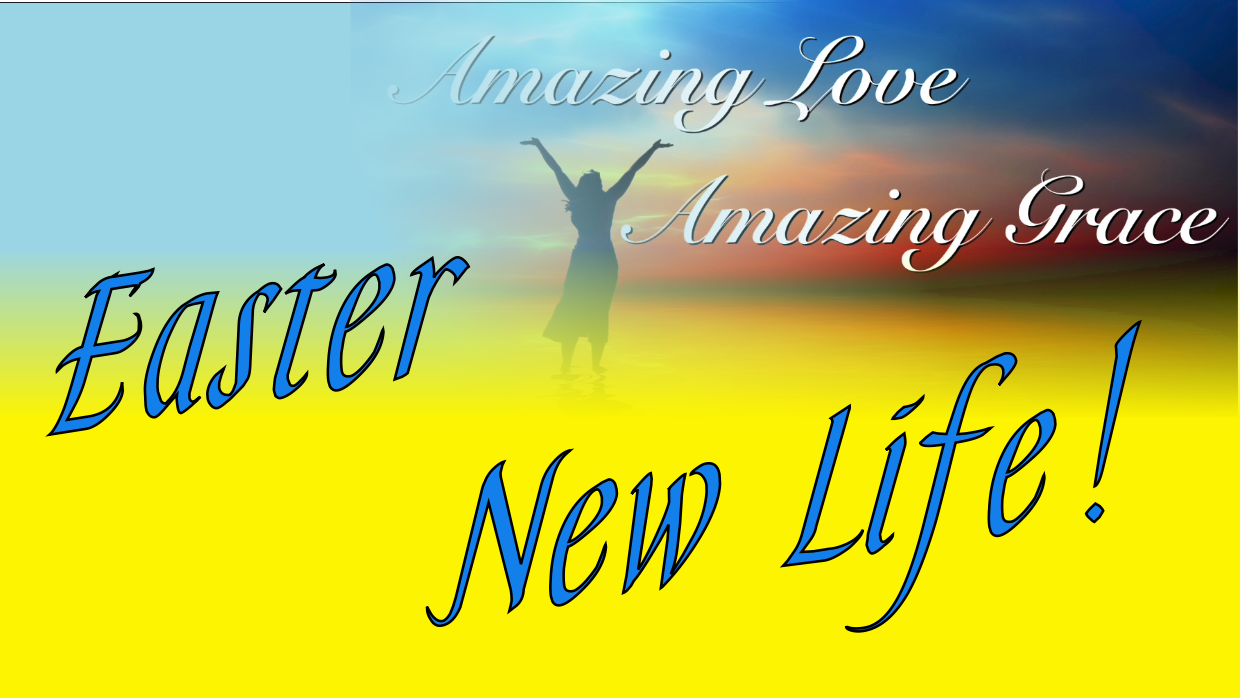 Sermon Notes :
The Resurrection of Jesus Christ.
Scripture References:
24 But on the first day of the week, at early dawn, they came to the tomb bringing the spices which they had prepared. 2 And they found the stone rolled away from the tomb, 3 but when they entered, they did not find the body of the Lord Jesus. 4 While they were perplexed about this, behold, two men suddenly stood near them in dazzling clothing; 5 and as the women were terrified and bowed their faces to the ground, the men said to them, "Why do you seek the living One among the dead? 6 He is not here, but He has risen. Remember how He spoke to you while He was still in Galilee, 7 saying that the Son of Man must be delivered into the hands of sinful men, and be crucified, and the third day rise again." 8 And they remembered His words, 9 and returned from the tomb and reported all these things to the eleven and to all the rest. 10 Now they were Mary Magdalene and Joanna and Mary the mother of James; also the other women with them were telling these things to the apostles. 11 But these words appeared to them as nonsense, and they would not believe them. 12 But Peter got up and ran to the tomb; stooping and looking in, he *saw the linen wrappings [c]only; and he went away to his home, marveling at what had happened.~Luke 24:1-12