Sermon Series "The Christmas Spirit"
This series teaches how we must deal with those past, present, and future issues to be in the Christmas Spirit.
Letting go of the Past.
November 27, 2016
Video
Notes and Key points:
Forgiveness Sets us Free
Suffering from the past hurts.
Forgiving others heals ourselves.
Forgiving ourselves sets us free.
Scripture References:
"Forget the former things; do not dwell on the past.  See, I am doing a new thing! Now it springs up; do you not perceive it? I am making a way in the wilderness and streams in the wasteland." ~Psalm 50:9-10
"Love is patient, love is kind. It does not envy, it does not boast, it is not proud.  It does not dishonor others, it is not self-seeking, it is not easily angered, it keeps no record of wrongs." ~1 Corinthians 13:4-5
"For if you forgive other people when they sin against you, your heavenly Father will also forgive you. But if you do not forgive others their sins, your Father will not forgive your sins." ~Matthew 6:14-15
"At this, those who heard began to go away one at a time, the older ones first, until only Jesus was left, with the woman still standing there.  Jesus straightened up and asked her, 'Woman, where are they? Has no one condemned you?' 'No one, sir,' she said. 'Then neither do I condemn you,' Jesus declared. 'Go now and leave your life of sin.' ~John 8:9-11
Don't Miss the Miracle!
December 24, 2016
Video
The Christmas Spirit--Don't Miss the Miracle!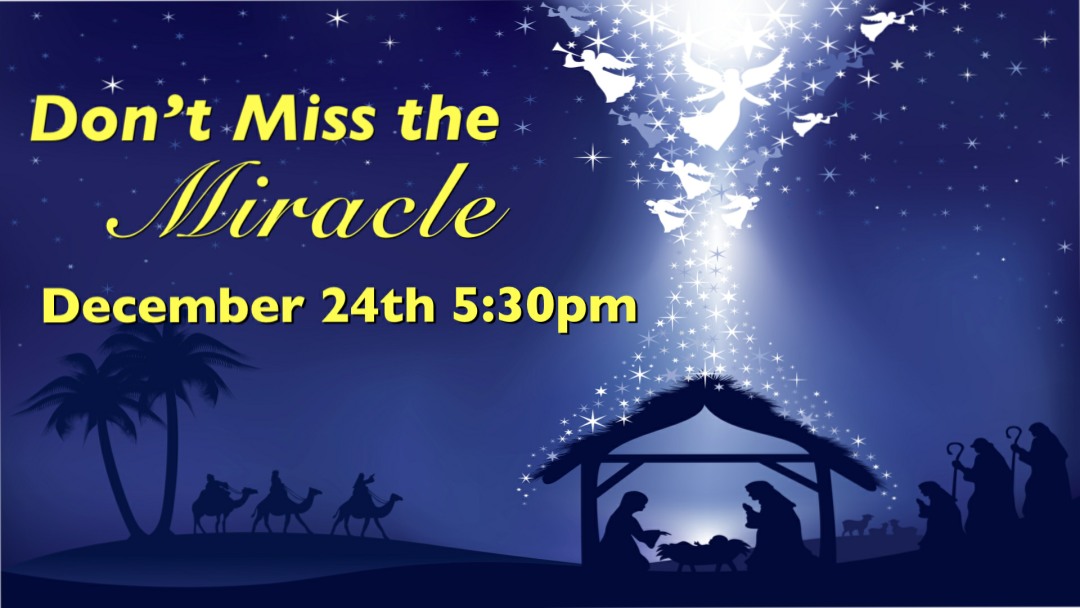 Scripture References:
1In the beginning was the Word, and the Word was with God, and the Word was God. 2 He was with God in the beginning. 3 Through him all things were made; without him nothing was made that has been made. 4 In him was life, and that life was the light of all mankind. 5 The light shines in the darkness, and the darkness has not overcome it.
14 The Word became flesh and made his dwelling among us. We have seen his glory, the glory of the one and only Son, who came from the Father, full of grace and truth. ~John 1: 1-5, 14
Pressures of the Present
December 4, 2016
Video
Notes and Key points:
Living in the Moment
The pressures of the celebration.
Pressures distract us from today.
The joy of the Lord is here now.
Scripture References:
"Therefore I tell you, do not worry about your life, what you will eat or drink; or about your body, what you will wear. Is not life more important than food, and the body more important than clothes?  Look at the birds of the air; they do not sow or reap or store away in barns, and yet your heavenly Father feeds them. Are you not much more valuable than they?  Who of you by worrying can add a single hour to his life?" ~Matthew 6:25-27
"But seek first his kingdom and his righteousness, and all these things will be given to you as well.  Therefore do not worry about tomorrow, for tomorrow will worry about itself.  Each day has enough trouble of its own." ~Matthew 6:33-34
"But the angel said to them, 'Do not be afraid.  I bring you good news of great joy that will be for all the people.  Today in the town of David a Savior has been born to you; he is Christ the Lord.'" ~ Luke 2:10-11
Wise Men Still Seek Him
December 25, 2016
Video
The Christmas Spirit--Wise Men Still Seek Him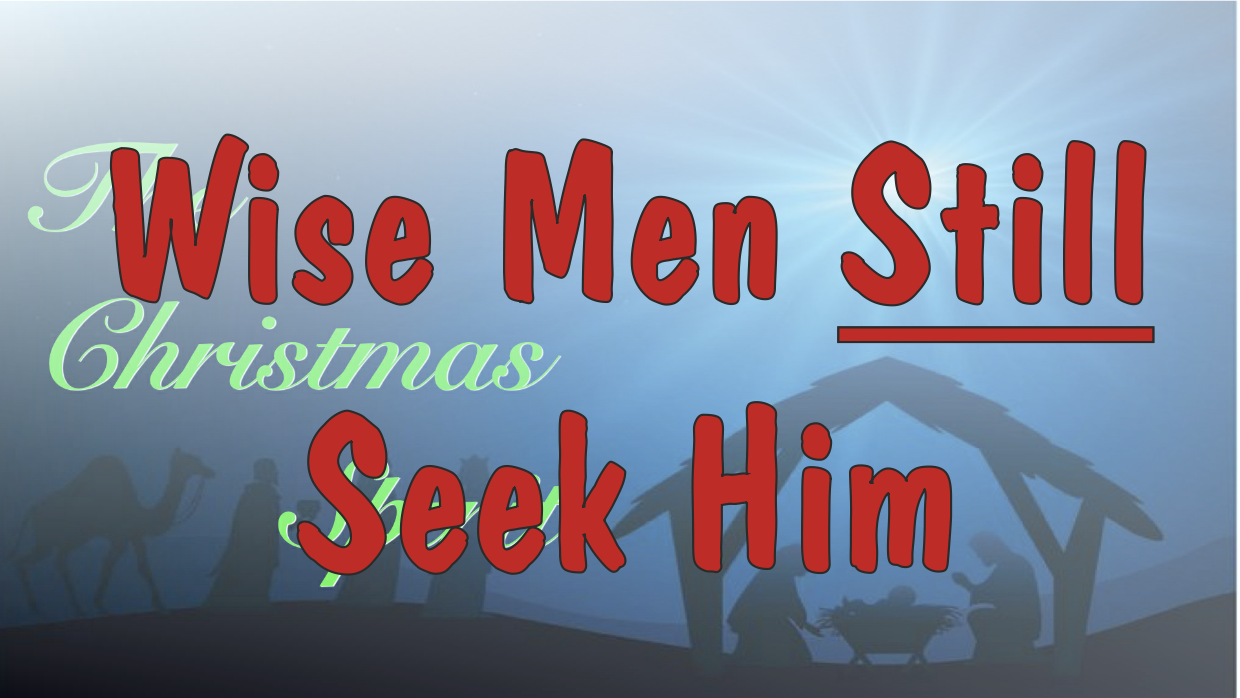 Click Here to watch Erica Soelberg's "Wise Men Still Seek Him" video.
Scripture References:
1 After Jesus was born in Bethlehem in Judea, during the time of King Herod, Magi from the east came to Jerusalem 2 and asked, "Where is the one who has been born king of the Jews? We saw his star when it rose and have come to worship him."
3 When King Herod heard this he was disturbed, and all Jerusalem with him. 4 When he had called together all the people's chief priests and teachers of the law, he asked them where the Messiah was to be born. 5 "In Bethlehem in Judea," they replied, "for this is what the prophet has written:
6 "'But you, Bethlehem, in the land of Judah,
    are by no means least among the rulers of Judah;
for out of you will come a ruler
    who will shepherd my people Israel.'"
7 Then Herod called the Magi secretly and found out from them the exact time the star had appeared. 8 He sent them to Bethlehem and said, "Go and search carefully for the child. As soon as you find him, report to me, so that I too may go and worship him."
9 After they had heard the king, they went on their way, and the star they had seen when it rose went ahead of them until it stopped over the place where the child was. 10 When they saw the star, they were overjoyed. 11 On coming to the house, they saw the child with his mother Mary, and they bowed down and worshiped him. Then they opened their treasures and presented him with gifts of gold, frankincense and myrrh. 12 And having been warned in a dream not to go back to Herod, they returned to their country by another route. ~Matthew 2: 1-12
Fear over the Future
December 11, 2016
Video
Notes and Key points:
Choose between Fear or Hope
We often have fear of the unknown.
We must face the future without fear.
Through Christ our future has hope.
Scripture References:
"But the angel said to her, 'Do not be afraid, Mary, you have found favor with God.  You will be with child and give birth to a son, and you are to give him the name Jesus.  He will be great and will be called the Son of the Most High. The Lord God will give him the throne of his father David, and he will reign over the house of Jacob forever; his kingdom will never end.'" ~Luke 1:30-33
"There is no fear in love.  But perfect love drives out fear, because fear has to do with punishment. The one who fears is not made perfect in love." ~1 John 4:18
"And we know that in all things God works for the good of those who love him, who have been called according to his purpose." ~Romans 8:28