Sermon Series "After God's Own Heart"
This series looks at David's relationship with God.
God Looks at the Heart
April 8, 2018
Video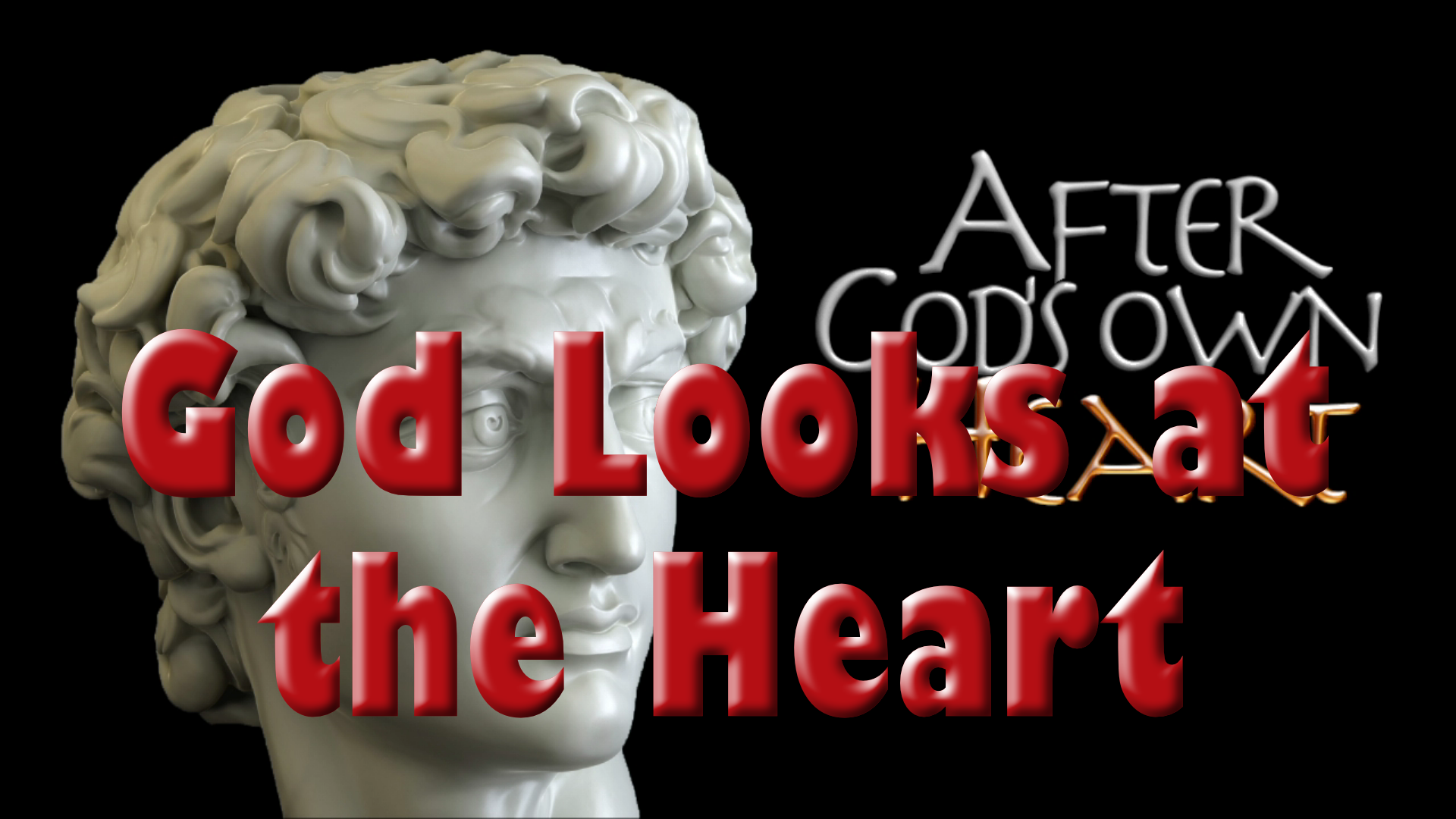 Sermon Notes :
Finding a King after God's Heart
Overlooking someone at first glance.
Trust only those who's heart is after God's.
Be careful not the sell yourself short.
Scripture References:
"But the LORD said to Samuel, 'Do not consider his appearance or his height, for I have rejected him. The LORD does not look at the things man looks at. Man looks at the outward appearance, but the LORD looks at the heart.'" ~1Samuel 16:7
"After removing Saul, [God] made David their king. He testified concerning him: 'I have found David son of Jesse a man after my own heart; he will do everything I want him to do.'" ~Acts 13:22
"So Samuel took the horn of oil and anointed him (David) in the presence of his brothers, and from that day on the Spirit of the Lord came upon David in power." ~1 Samuel 16:13
"Make a tree good and its fruit will be good, or make a tree bad and its fruit will be bad, for a tree is recognized by its fruit… A good man brings good things out of the good stored up in him, and an evil man brings evil things out of the evil stored up in him." ~Matthew 12:33,35
Giants: Small to God
April 15, 2018
Video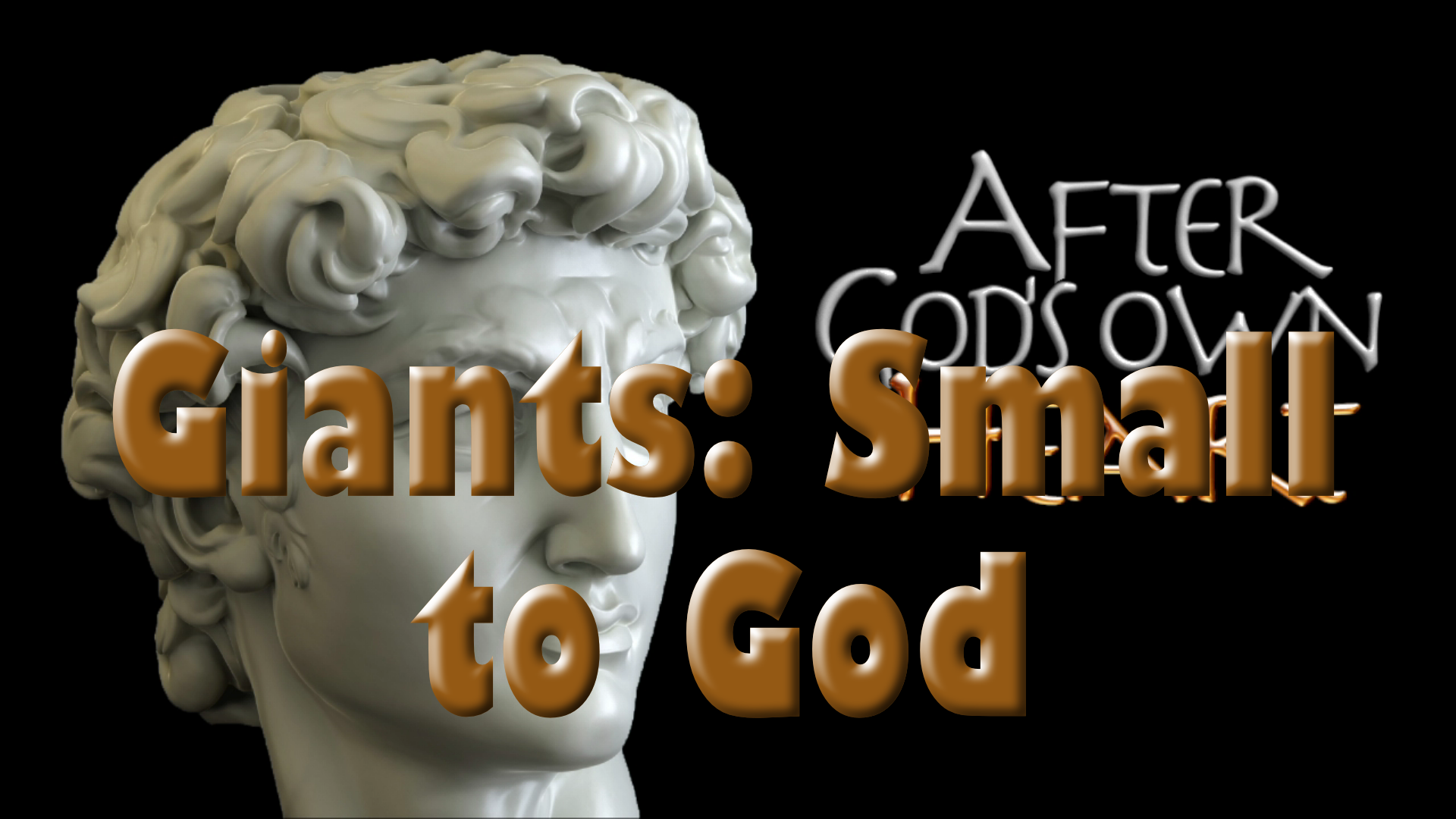 Sermon Notes :
Fighting Giants in God's Power
What are the giants in your life?
Are you on the right side of the fight?
You must listen to and follow the Holy Spirit.
Scripture References:
A champion named Goliath, who was from Gath, came out of the Philistine camp. His height was six cubits and a span.He had a bronze helmet on his head and wore a coat of scale armor of bronze weighing five thousand shekels." ~1 Samuel 17:4-5
"David asked the men standing near him, 'What will be done for the man who kills this Philistine and removes this disgrace from Israel? Who is this uncircumcised Philistine that he should defy the armies of the living God?'" ~1 Samuel 17:26
"Your servant has killed both the lion and the bear; this uncircumcised Philistine will be like one of them, because he has defied the armies of the living God. The Lord who rescued me from the paw of the lion and the paw of the bear will rescue me from the hand of this Philistine." ~1 Samuel 17:36-37
"David said to the Philistine, 'You come against me with sword and spear and javelin, but I come against you in the name of the Lord Almighty, the God of the armies of Israel, whom you have defied.'" ~1 Samuel 17:45
A Godly Response to Evil
April 22, 2018
Video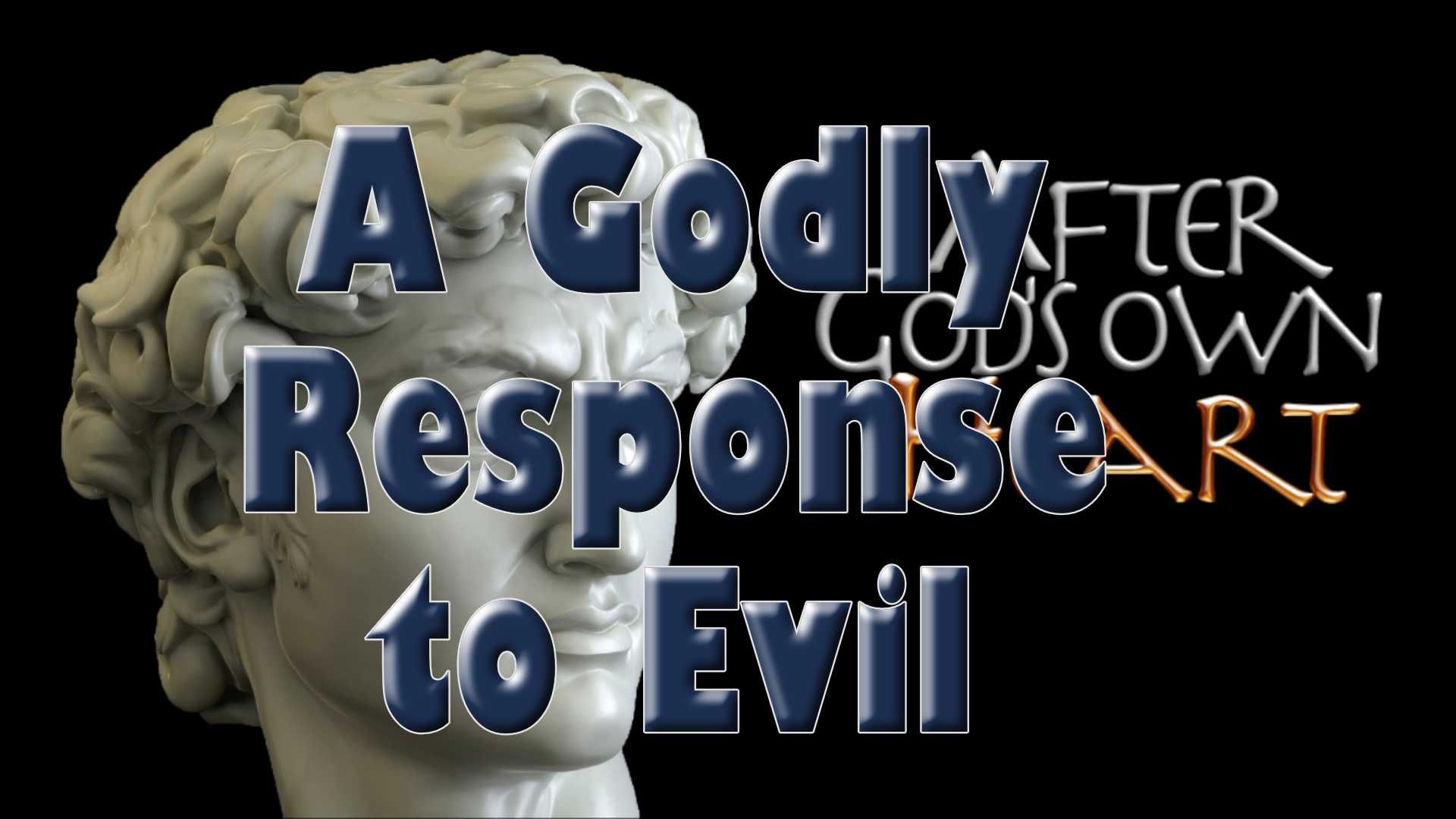 Sermon Notes :
Responding to an Unfair Attack
We can respond by being defensive.
Our response can come from revenge.
A Godly response comes from reconciliation.
Scripture References:
"As they danced, they sang: 'Saul has slain his thousands and David his tens of thousands.' Saul was very angry; this refrain displeased him greatly. "They have credited David with tens of thousands," he thought, "but me with only thousands. What more can he get but the kingdom?" ~1 Samuel 18:7-8
"He came to the sheep pens along the way; a cave was there, and Saul went in to relieve himself. David and his men were far back in the cave.  The men said, "This is the day the Lord spoke of when he said to you, 'I will give your enemy into your hands for you to deal with as you wish.' Then David crept up unnoticed and cut off a corner of Saul's robe." ~1 Samuel 24:3-4
"He said to Saul, 'Why do you listen when men say, 'David is bent on harming you'? This day you have seen with your own eyes how the Lord delivered you into my hands in the cave. Some urged me to kill you, but I spared you; I said, 'I will not lay my hand on my lord, because he is the Lord's anointed.'" ~1 Samuel 24:9-10
Temptation, Deceit, & Murder
April 29, 2018
Video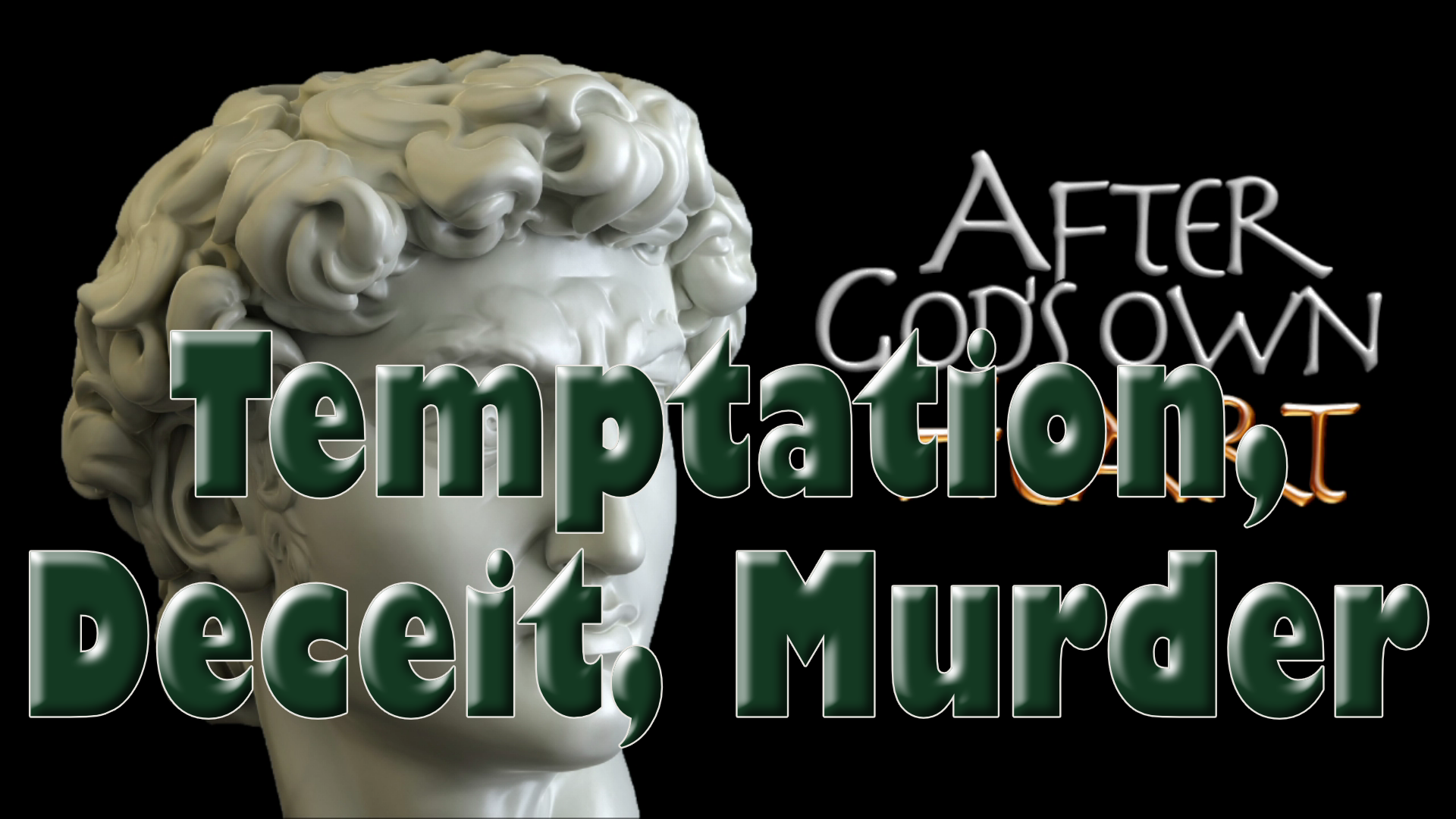 Sermon Notes :
Temptation leads to destruction
Temptation to sin is powerful.
Sin lead to deceit to cover the shame.
Can David still be after God's own Heart.
Scripture References:
"One evening David got up from his bed and walked around on the roof of the palace. From the roof he saw a woman bathing. The woman was very beautiful, and David sent someone to find out about her. The man said, 'She is Bathsheba, the daughter of Eliam and the wife of Uriah the Hittite.'" ~2 Samuel 11:2-3
"When Uriah came to him, David asked him how Joab was, how the soldiers were and how the war was going. Then David said to Uriah, 'Go down to your house and wash your feet.' So Uriah left the palace, and a gift from the king was sent after him. But Uriah slept at the entrance to the palace with all his master's servants and did not go down to his house." ~2 Samuel 11:7-9
"In the morning David wrote a letter to Joab and sent it with Uriah. In it he wrote, 'Put Uriah out in front where the fighting is fiercest. Then withdraw from him so he will be struck down and die.""~ ~2 Samuel 11
"'Come now, let us settle the matter,' says the Lord. 'Though your sins are like scarlet,they shall be as white as snow;though they are red as crimson,they shall be like wool.'" ~Isaiah 1:18
Forgiven, but Consequences
May 6, 2018
Video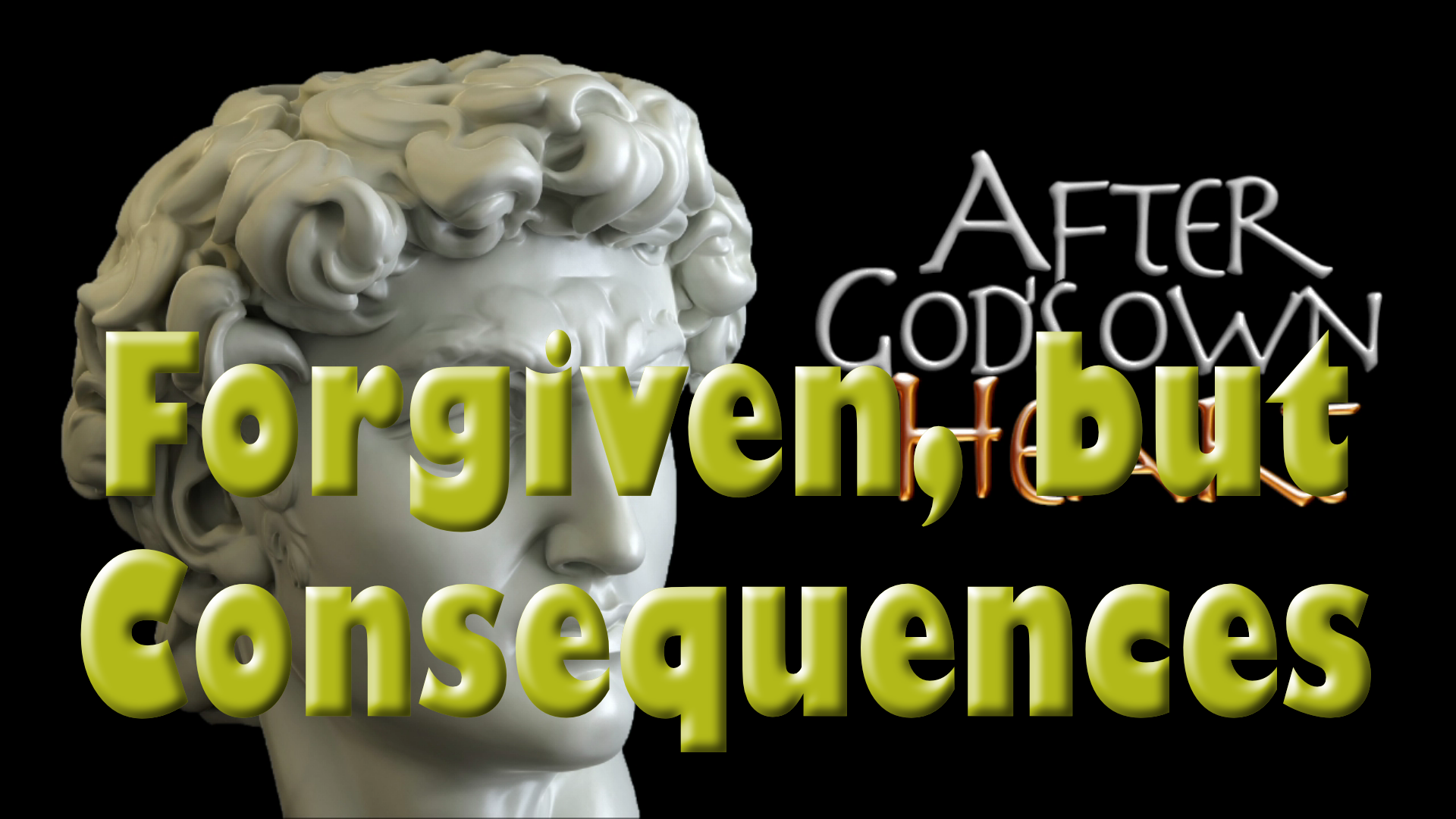 Sermon Notes:
The Results of Sin
How to react to the truth.
A Godly heart seeks repentance .
Forgiven, but still the consequences.
Scripture References:
"David burned with anger against the man and said to Nathan, 'As surely as the Lord lives, the man who did this must die! He must pay for that lamb four times over, because he did such a thing and had no pity.'" ~2 Samuel 12:5-6
"Then Nathan said to David, 'You are the man! This is what the Lord, the God of Israel, says: 'I anointed you king over Israel, and I delivered you from the hand of Saul. I gave your master's house to you, and your master's wives into your arms. I gave you all Israel and Judah. And if all this had been too little, I would have given you even more. Why did you despise the word of the Lord by doing what is evil in his eyes?'" ~2 Samuel 12:7-9
"Then David said to Nathan, 'I have sinned against the Lord.' Nathan replied, 'the Lord has taken away your sin. You are not going to die.'" ~2 Samuel 12:13
"Now, therefore, the sword will never depart from your house, because you despised me and took the wife of Uriah the Hittite to be your own.'" ~2 Samuel 12:10
Forgiven, but Consequences
May 13, 2018
Video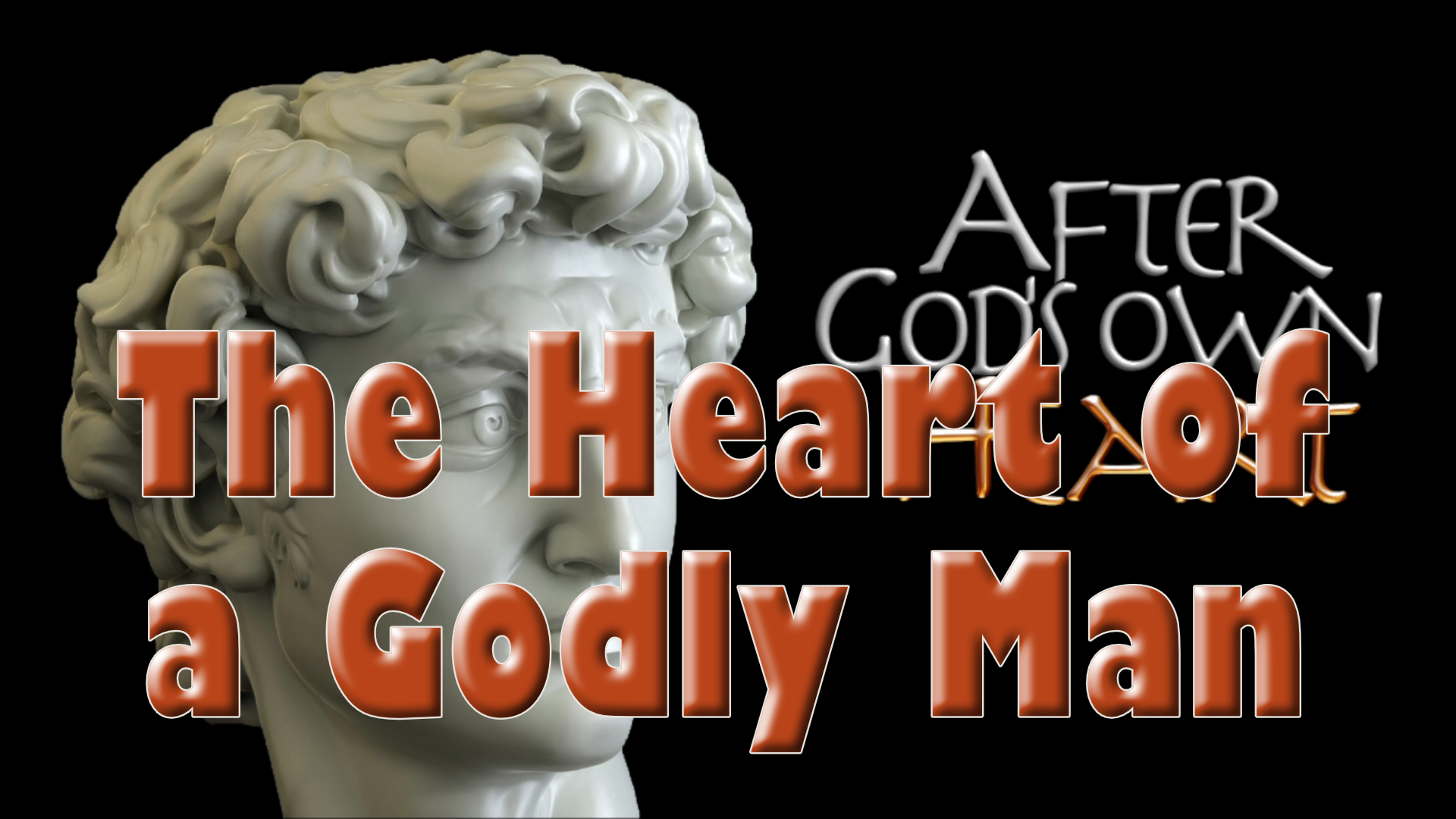 Sermon Notes:
David's heart in the Psalms
David and God's deep relationship.
How do you see God in your life?
Living a life after God's own heart.
Scripture References:
"Teach me your way, Lord, hat I may rely on your faithfulness; give me an undivided heart, that I may fear your name. I will praise you, Lord my God, with all my heart; I will glorify your name forever.  For great is your love toward me; you have delivered me from the depths, from the realm of the dead." ~Psalm 86:11-13
"The Lord is my shepherd, I lack nothing. He makes me lie down in green pastures,he leads me beside quiet waters, he refreshes my soul. He guides me along the right paths for his name's sake. Even though I walk through the darkest valley, I will fear no evil, for you are with me; your rod and your staff, they comfort me." Psalm 23: 1-4
"Praise the Lord, my soul; all my inmost being, praise his holy name. Praise the Lord, my soul, and forget not all his benefits — who forgives all your sins and heals all your diseases, who redeems your life from the pit and crowns you with love and compassion, who satisfies your desires with good things so that your youth is renewed like the eagle's." ~Psalm 103