Adult Education
Learning from and teaching others are part of our growth in discipleship
A very important part of any Christian's life is the life-long pursuit of biblical knowledge as well as knowledge of developing a relationship with Jesus Christ. As a church then, it is a priority to develop and use those who are already well along in their faith journey to teach others and facilitate their faith development. This can be done in classes set up for all age groups starting from kindergarten and going through adults.
Teachers must be well versed in the Bible and have the ability to lead a class of an age suited to their interest and skill. They must realize that they sometimes have the responsibility for the students' eternal welfare in their hand and act accordingly, by adhering to the true Gospel and only the Word of God.
If you would like information about becoming a teacher in our Adult Education ministry, please click here.
"Foundations"
DVD Series by Ken Ham of Answers in Genesis.
Millions of Christians have decided that the Bible is out of date. They've decided that the words of Jesus aren't always true. The Foundations—Ken Ham's signature series based on 30 years of ministry—reveals the alarming state of Christianity today.
It was twelve years ago that Ken Ham was last filmed for a major video series. A lot has changed since then. Twelve years ago, terrorists had not yet flown planeloads of  people into New York skyscrapers. The American economy was roaring.  Tsunamis had not yet left millions of people asking "why?" America was not simultaneously fighting three different wars. And the president of the United States had not declared that America is no longer a Christian nation.
Today, possibly more than at any time in America's history, a culture detached from God and willingly ignorant of His hand in creation and world events needs Jesus. But the church is not nearly as effective in reaching the lost as it was only a generation ago. There is a foundational reason.
In this hard-hitting yet often humorous new series, popular Australian-born author Ken Ham uses modern events as the backdrop for the most important messages of his life. By combining his signature talks with cutting edge new graphics and current events headlines, Ham connects with viewers as never before!
Led By Greg Sprick
Class is in Church Parlor
10:15-11:00 AM
View Promo clip for Foundations
Celebrate Colossians
By Keith Loy
12 video sessions on the book of Colossians are presented by Keith Loy, the Senior Pastor of Celebrate Community Church in South Dakota. Focusing on the question, "Who is Jesus?" Pastor Loy's teaching and guided discussions in the participant's guide (available separately: WW273915) will help you and your small group understand why the Apostle Paul asserts that Jesus is Lord. Combining insight with application steps to take between sessions will lead group members to faithful and confident Christian living in Christ.
Led by Goria Feigal
Class is in Meyer's Hall
10:15-11:00 AM
"Foundations"
DVD Series by Ken Ham of Answers in Genesis.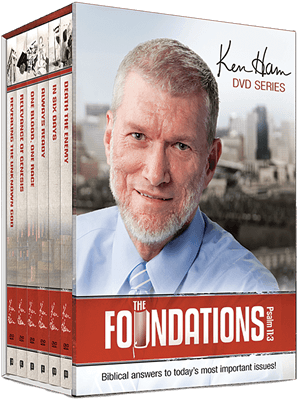 See Promo and description at left.
These are the sections for both classes for a total of 12 sessions:
The Foundations: Relevance of Genesis
The Foundations: Revealing the Unknown God (Evangelism)
The Foundations: One Blood One Race
The Foundations: Always Ready
The Foundations: In Six Days
The Foundations: Death the Enemy
Led by Greg Sprick
7:00 pm in Meyers Hall
The Case for Christ
Based on the Book/DVD by Lee Strobel
A SEASONED JOURNALIST CHASES DOWN THE BIGGEST STORY IN HISTORY - Is there credible evidence that Jesus of Nazareth really is the Son of God? Retracing his own spiritual journey from atheism to faith, Lee Strobel, former legal editor of the Chicago Tribune, cross-examines a dozen experts with doctorates who are specialists in the areas of old manuscripts, textual criticism, and biblical studies. Strobel challenges them with questions like; How reliable is the New Testament? Does evidence for Jesus exist outside the Bible? Is there any reason to believe the resurrection was an actual event? Strobel s tough, point-blank questions make this bestselling book read like a captivating, fast-paced novel. But it is not fiction. It is a riveting quest for the truth about history s most compelling figure. What will your verdict be in The Case for Christ?
Led by Barb Pratt
5:30 pm in Church Parlor